Illuminating a low-carbon future through finance
HSBC is committed to reducing its carbon footprint through its operations and financing portfolio, while also supporting customers to thrive through the transition.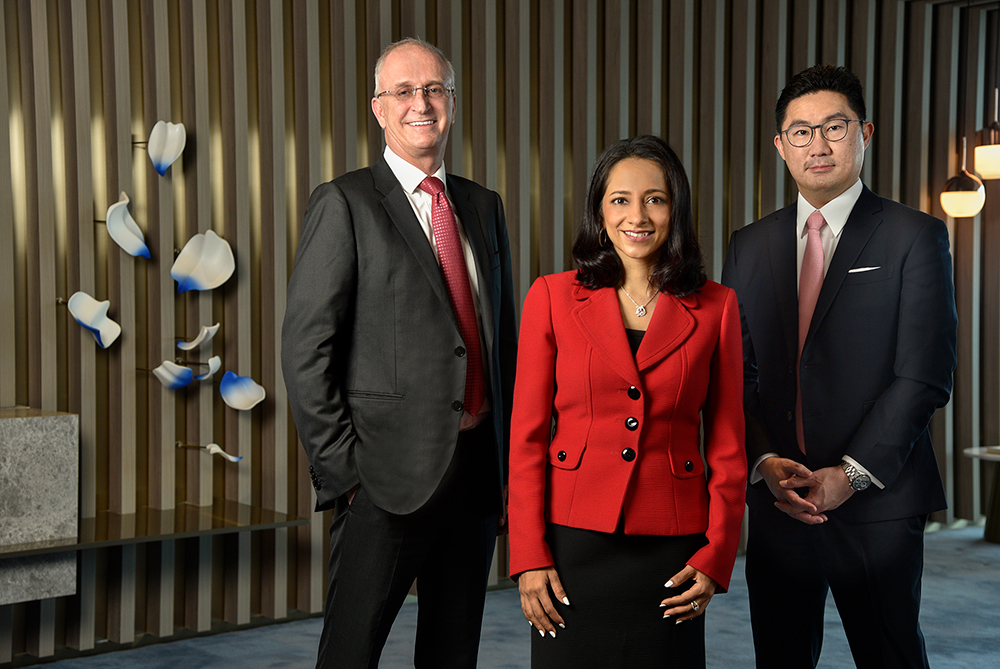 The daunting reality of climate change is upon us. As extreme weather patterns and natural disasters grow more prevalent globally, consumers are increasingly looking for services and products that leave a smaller, if not zero, carbon footprint.
The urgency to reduce carbon emissions has spilled over into the financial markets. With the right financing and investment tools, financial institutions can accelerate the push towards a low-carbon world.

Mr Philip Kunz, HSBC's Head of Global Private Banking for Southeast Asia, points out that the most significant thing a bank can do, is to provide financial support that helps heavy-emitting businesses transition to low-carbon and become more sustainable over time.

HSBC is no stranger in this space, with Environmental, Social and Corporate Governance (ESG) practices deeply embedded across the group. In October 2020, HSBC furthered its commitment with a new climate ambition aimed at reducing financed emissions from its portfolio of customers to net zero by 2050 or sooner, in line with the Paris Agreement.

"We are built on a deep understanding of our individual and corporate clients, many of whom have the ability to influence and inspire change. Our role as a sustainable leader is to pave the way for businesses and investors to achieve their sustainability ambitions," says Mr Kunz.

Thriving through transition

According to research by HSBC, companies with higher revenue exposure to climate solutions and reduced energy use have outperformed the FTSE All World Index with higher dividend yields.
If companies do not invest sufficiently to adapt their business model to a low-carbon world, their cost of capital may rise, posing an imminent threat to their survival.

The solution is not simply "closing down the old shop and building a new one", but rather adapting existing business models to a new normal.

"Letting go and transforming is challenging for any business. Change doesn't happen overnight in one conversation, but we find that businesses relate better to data that has a direct correlation to their own bottom line," says Mr Kunz.
Mr Kunz firmly believes that HSBC has a competitive advantage in understanding both the financial and cultural aspects of the markets which the bank operates in.
It is important we continue to leverage our global footprint to illuminate opportunities for our internationally minded clients, and help them tweak their business models over time.
HSBC's ambition is to provide between USD750 billion and USD1 trillion of finance and investment for this purpose over the next decade.
It is significantly expanding its portfolio of transition finance solutions to help even the most emissions-intensive sectors progressively decarbonise, while ensuring a smooth transition in order to maintain economic stability.

Investing with a green lens

In helping businesses adapt to a low-carbon world, product fulfilment is also an integral part of the bigger goal to combat climate change effectively.
That is what Ms Lavanya Chari and Mr Jeffrey Yap are spearheading within HSBC Private Banking's Investments and Products Group (IPG). The aim is to establish a best-in-class product platform that is essential to deliver on the ESG agenda.

In leading HSBC Private Banking's product strategy, Ms Chari is fully aware that there isn't a one-size-fits-all. "Our strong belief is that sustainable investing does not detract, but instead is accretive to performance. It is a strategic priority for us to expand our range of products in order to find solutions that meet our clients' evolving needs," she says.

As a start, HSBC Private Banking is pooling investment expertise across the group – from its asset management arm to the capital markets and commercial banking units – to collectively accelerate ESG offerings and expand product fulfillment opportunities.

"In addition, we will continue to be rigorous in our fund selection, hone our research and insight capabilities to better spot interesting opportunities in this space," she adds.

For example, HSBC Private Banking's core portfolio approach includes high-conviction themes aligned to the United Nations Sustainable Development Goals and the Paris Agreement, as it is expected that many corporations and governments will be investing time and capital into meeting these goals.

In April 2020, HSBC introduced its first impact private equity fund that seeks to achieve positive social and environmental impact, alongside competitive returns. In the fixed-income space, the bank leverages its Green Bond Framework to issue green structured notes and track their use of proceeds towards environmental projects.

Its latest joint venture, HSBC Pollination Climate Asset Management, intends to establish a series of natural capital funds, investing in activities that preserve, protect and enhance nature over the long term and address climate change.

When asked on the outcome they hope to achieve, Mr Yap is cognisant of the private bank's role in reinforcing HSBC's commitment to shaping a sustainable future. "Ultimately, this is to encourage, and, with the right resources, empower our high and ultra-high net worth clients that it is possible to make a positive impact with their investments," he says.

Leading the way to net zero

The journey to a low-carbon world will require huge mobilisation from governments, corporations and communities to unlock significant investment and financing opportunities.
With its global reach and ESG expertise, HSBC aims to be the leading bank in the global transition. In doing so, the bank has committed to be net zero in its own operations and supply chain by 2030, or sooner.

"As well as encouraging clients to do the same, we are constantly talking to our partners and suppliers about how they can cut their carbon emissions," affirms Mr Kunz.

"We're entering a pivotal decade of change, so why stop here? The time to act is now."
This article was published in The Business Times Who's Who in Private Banking supplement on 24 February 2021. Issued by The Hongkong and Shanghai Banking Corporation Limited.