Asia Perspectives: Divergent recovery paths in Southeast Asia
In Southeast and South Asia, the Delta variant has hampered the region's growth potential. Clearly, growth momentum has slowed and we are witnessing the peaking of growth
Looking ahead, vaccination, policy response, and exports will determine the divergent recovery paths in Southeast and South Asia. The good news is that vaccination rates have surged, and Southeast Asia's re-opening plans are proceeding. The outlook will be brighter for most of Southeast Asia in 2022
A nuance approach and selective strategy for the Southeast Asian markets is needed at this juncture, with overweight in Singapore and Thailand equities due to the reopening, and underweight on Malaysian equities
On fixed income, we continue to see Indonesia's sovereign and corporate bonds as an attractive source of carry opportunities. Indonesia provides a combination of being a recovery play and offering structural growth improvements
Divergent recovery paths in Southeast Asia
In Southeast and South Asia, the Delta variant has hampered the region's growth potential. Clearly, growth momentum has slowed and we are witnessing the peaking of growth.
Looking ahead, vaccination progress, fiscal policy, and exports will determine the divergent recovery paths in Southeast and South Asia. The good news is that vaccination rates have surged, and Southeast Asia's re-opening plans are proceeding as planned.
Asean mobility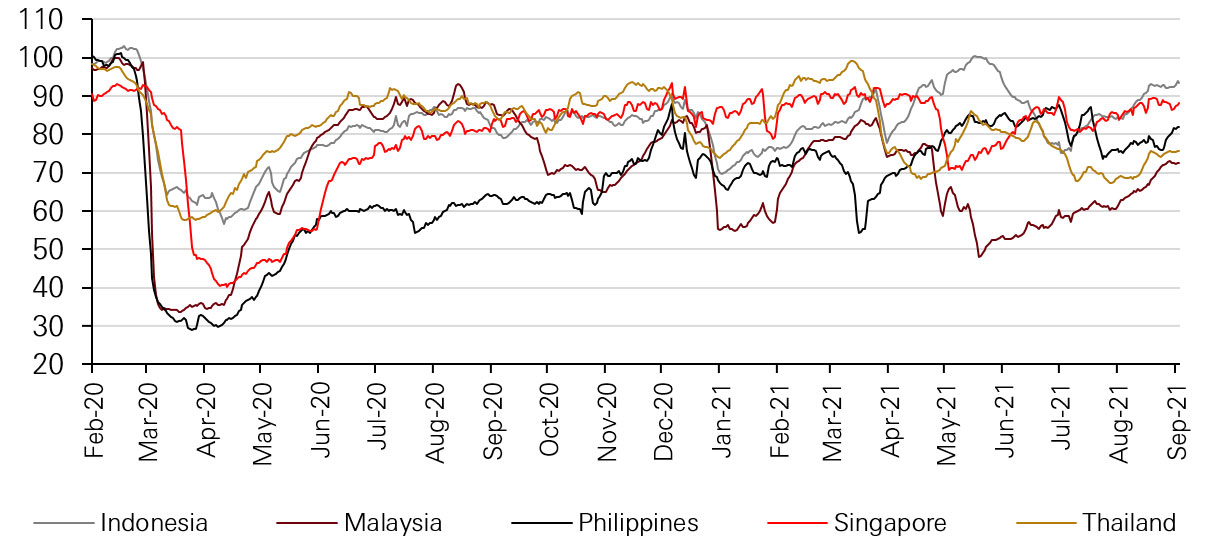 Source: Google mobility tracker, HSBC Private Banking as at 28 September 2021.
Policy Supportive
Encouragingly, inflation concern in Southeast Asia have dissipated. Key food prices, such as rice, have fallen dramatically, helping to offset rising commodity prices. In countries with higher inflation, central banks are willingly to look through the supply-side inflation. Meanwhile, as growth slows, demand-driven inflation has subsided too. Despite subdued inflation risks, we do not believe further rate cuts are in the offing.
Over in Indonesia, the economy is on a solid footing. Indonesia has disbursed a large share of its infrastructure budget so far, suggesting an acceleration in public investment. Indonesia is also benefiting from a positive export outlook, due to higher commodity production volumes coupled with a sharp rise in steel exports. Hence, Bank Indonesia kept the policy rate on hold at 3.5 per cent recently, and will likely keep policy on hold for the next year, with the next move. likely being a RRR hike in 2H22 to absorb liquidity created by bond purchases. We forecast USD-IDR at 14,700 at end-2021.
In India, the Reserve Bank of India kept rates unchanged, but the decision around keeping the stance accommodative was not unanimous this time; the inflation forecast was raised meaningfully. It appears the RBI is prepared to look through short-term inflation. We think USD-INR is likely to end the year at 73.
Similarly, the Bangko Sentral ng Pilipinas kept the policy rate on hold at 2 per cent as inflation is expected to continue rising above the central bank's 2-4 per cent target. The BSP expects inflation to rise further in September before easing in November, as typhoon season exacerbates already-high food prices. Given protracted recovery prospects, BSP is likely to look through supply-side inflation and keep the policy rate on hold through 2022. We see limited upside to USD-PHP. We see USD-PHP at 51 by end-2021.
State of play in Southeast Asian Markets
Southeast Asia economic activity should benefit from the ongoing vaccination programs and opening up of the global economy, even though this could be delayed in certain parts.
Recovery prospects depend on vaccination trends, export recovery, and fiscal policy space. Singapore is best positioned, while Thailand could benefit as global travel resumes. As vaccinations accelerate and COVID-19 risks subside, investor focus will likely increasingly shift to the divergent growth path in Southeast Asia.
Southeast Asian markets have underperformed EM and DM for most part of 2021 as most investors have underweighted the region. Understandably, COVID-19 remains a concern. However, the impact on earnings is largely priced in. Consensus earnings forecasts could still be subject to downside risk as the region continues to reel from the spread of the delta variant. However, given this low base effect, ASEAN could still see higher earnings growth relative to Asia ex-Japan, especially going into 2022.
ASEAN earnings expectations much higher than the region

Source: Factset, HSBC Private Banking as at 28 September 2021.