Asia Perspectives - Southeast Asia to shine in 2022
Southeast Asia is one of the few economic blocs in the world that will experience stronger growth in 2022 compared to 2021
Going into 2022, consumer spending, policy response, and exports will determine the strength of recovery. Southeast Asia is prominent on this list of fastest-growing markets and could see higher earnings growth relative to Asia ex-Japan, as RCEP takes effect
We have turned overweight on Southeast Asia equities within Asia ex-Japan with overweight allocation to Indonesia, Singapore and Thailand equities due to their positive reopening progress. We also turned neutral on Malaysian stocks to reflect the improved economic outlook
For fixed income, we continue to see Indonesia's USD sovereign and corporate bonds as an attractive source of carry opportunities. Indonesia provides a combination of being a recovery play and offering structural growth improvements
Stronger growth for Southeast Asia in 2022
In Southeast Asia, the Delta variant has hampered the region's growth in 2021. However, growth momentum is going to pick up in 2022. The region is one of the few economic blocs in the world that will experience stronger growth in 2022. Southeast Asia is leading the reopening process in the region, led by Singapore which has 85 per cent of its population fully inoculated. Singapore is also leading the region in deployment of booster shot, having administered the booster dose to 24 per cent of its population.
With rising vaccination rates and medical breakthrough in oral antiviral COVID-19 drugs, more Southeast Asian countries are moving away from lockdowns towards the "Living with COVID-19" strategy. As of mid-November, Singapore and Malaysia have vaccinated more than 75 per cent of their populations with at least one dose of vaccines. In our view, the positive vaccination progress and new development in COVID treatment should facilitate economic reopening and recovery of consumer spending in Southeast Asia, supporting the service industry to rebound in 2022e profitability.
Reopening supports consumption recovery
While global equity markets recently pulled back due to concerns about a new COVID-19 variant discovered in South Africa and the fourth wave of COVID-19 outbreaks in Europe, daily new cases in Southeast Asia have been on a steady downward trend over the past three months. On a seven-day moving average basis, daily infections in Indonesia declined to their lowest levels since May 2020 and have fallen to their July 2020 lows in the Philippines. Malaysia's daily new cases have returned to pre-Delta variant levels.
Daily new COVID-19 cases in ASEAN have been on a downward trend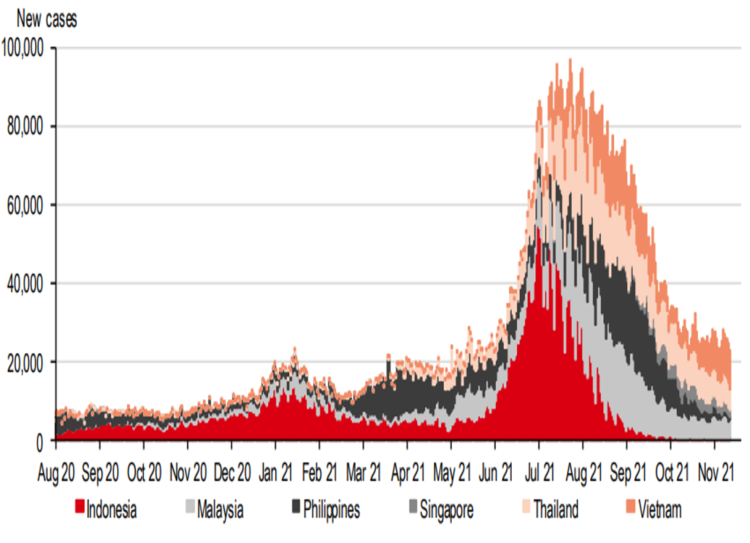 Source: CEIC, HSBC Global Private Banking as at 27 November 2021. Past perfor-mance is not a reliable indicator of future performance.
Looking ahead into 2022, we expect to see stronger growth dynamics for Southeast Asia versus 2021 as the region's private consumption is anticipated to post a V-shape recovery driven by economic reopening. We expect growth leadership will shift from manufacturing to consumption. Singapore has expanded its Vaccinated Travel Lane to 17 countries for quarantine-free travel. Effective from 22 November, up to five fully vaccinated individuals can dine out and enjoy social gatherings in Singapore, offering support for a recovery of consumer-facing services. Singapore and Malaysia will launch their long-anticipated Land Vaccinated Travel Lane (VTL), simultaneously with their Air VTL on 29 November.